Do you want an interactive display but want it to be on only occasionally? No problem, we offer touchscreen displays. The system is transferred to digital signage when you do not use the touchscreen. You can use a touchscreen display to interactively distribute specific information, advertisements, or advertisements to the target group. In which places is a touchscreen with a screen saver an option? A screen saver is possible in various places, such as shops, hotels, airports, public areas, and other locations where many people walk around or have to wait. Engagement and interaction are stimulated because the user can use the screen by touch. It allows users to navigate through the content. A screen saver appears when people do not use the touchscreen (the normal digital signage system).
The screen saver saves energy and extends the life of the screen. The screensaver can be used as a visual attraction to grab the audience's attention. What you show on a screensaver can be arranged entirely by yourself. Think of opening hours, information about the company, news, or promotions. Here you can choose from the 450+ ready-made templates of the DS Templates platform, or there is a possibility to have corporate identity templates developed. Don't hesitate to contact us for more information about the touchscreen or the screensaver. We are happy to help you!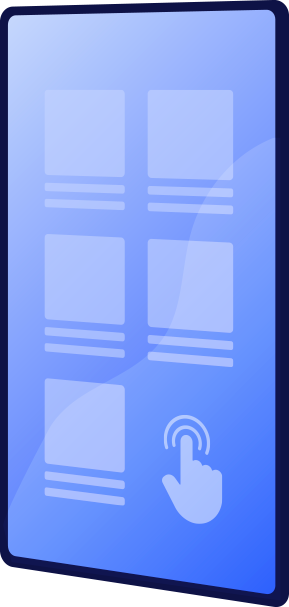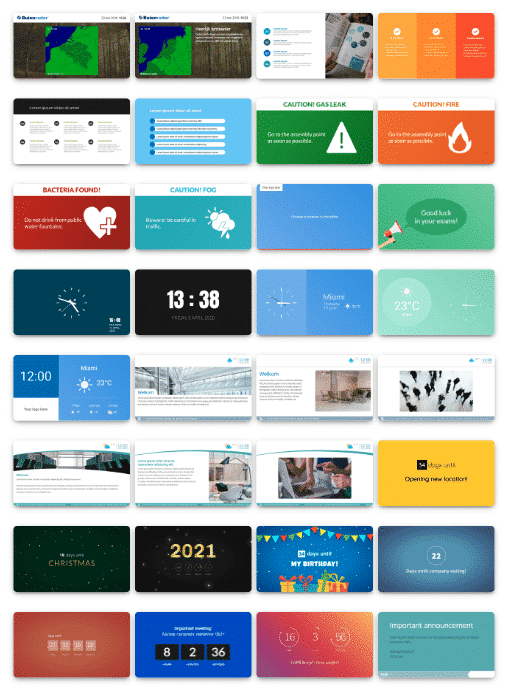 DS Templates makes digital signage easy. DS Templates is extremely suitable for optimizing communication to employees and visitors. We prepare templates in company identity for you to be able to communicate quickly in accordance with your company identity. This with an eye for detail, with professional content and user-friendliness being our primary goal.
What makes DS Templates a good system?
Join our platform and optimize your digital signage campaign